The Laboratories of Molecular Anthropology and Microbiome Research (LMAMR) are home to two state of the art laboratories: the LMAMR Ancient Lab, a world-class 6-room ISO-6 clean room for ancient DNA research; and the LMAMR Modern Lab, a fully equipped molecular biology laboratory specializing in high-throughput microbiome research.
LMAMR Ancient Lab

The LMAMR Ancient Lab is a world-class ISO-6 clean room dedicated to ancient DNA research. Built in late 2014, the new 6-room, 1308 square foot LMAMR Ancient Lab replaces the former 2-room, 400 square foot Ancient Lab, and marks a major expansion of LMAMR ancient biomolecules research capacity. Custom designed to accommodate both ancient microbiome and ancient host paleogenomics research, the new LMAMR Ancient Lab also features dedicated areas for sample storage and gowning, specimen photography and sampling, microscopy, volatile chemical handling and ancient protein extraction, and ancient DNA extraction and next-generation sequencing (NGS) library construction.
Construction of the new LMAMR Ancient Lab is now complete and we are currently transitioning our ancient research projects to the new lab. Check out the image below to see our progress and the latest photos of our new lab.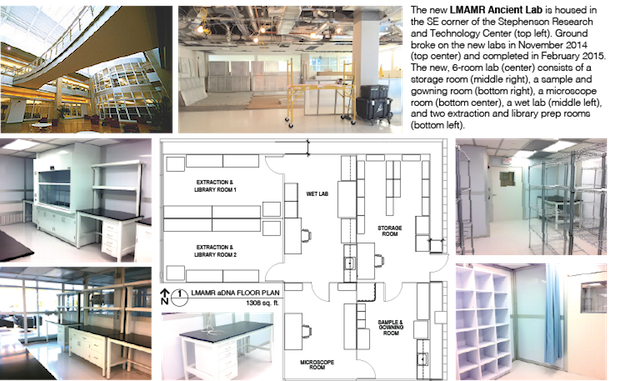 LMAMR Modern Lab

The LMAMR Modern Lab is a fully equipped BSL-2 molecular biology laboratory specializing in microbiome research. The 600 square foot lab is subdivided into six work areas and includes ample room for sample sorting and preparation, automated robotics for DNA extraction, a biological safety cabinet for work with biohazardous material, laminar flow hoods for PCR and library set-up, thermocyclers for PCR and qPCR, a range of DNA quantification and characterization instruments, extensive cold storage capacity for long-term sample curation, and direct access to an autoclave facility. Additional resources available within the building include high-throughput next-generation sequencing (NGS) instruments and supporting equipment.