K12 TEACHER OUTREACH AND RESOURCES
We partner with Oklahomans for Excellence in Science Education (OESE) to support science education workshops for K12 teachers. Check out the OESE website for more information about upcoming OESE workshops and resources.
Our graduate students and postdocs have also particpated in the Oklahoma Educators Evolve workshops hosted by the Oklahoma City Community College. These workshops aim to educate elementary and middle school science teachers on new state educational standards in the life and earth sciences.
K12 CLASSROOM VISITS AND PRESENTATIONS
High school YouthCafe outreach lecture, "How 'Paleo' is your diet?" presented by Dr. Christina Warinner in partnership with the Leakey Foundation Speaker Series on Human Origins, American Museum of Natural History, New York City, New York, April 6, 2016.
Middle school outreach lecture, "Archaeology of the invisible," presented by Dr. Christina Warinner to an assembly of approx. 400 6th graders at P.S. 086, New York City, New York, April 5, 2016.
Interactive school assembly and activity, "Microbiomes and Archaeology," presented by Dr. Christina Warinner to grades 4-8 at the Sonoma Country Day School, Santa Rosa, CA, December 3, 2013.
Virtual classroom lesson and Q&A on bacteria and archaeology, presented by Dr. Christina Warinner via Skype to Aaron Reedy's biology class at Kelly High School, Chicago, IL, April 12, 2012.
HIGH SCHOOL SCIENCE PROJECTS
Over the years, several high school students have gained laboratory training and conducted supervised research projects in our lab. Local high school science teachers are encouraged to contact us if they have a highly motivated student interested in gaining laboratory experience or conducing a science project for the Oklahoma State Science and Engineering Fair. The student will be paired with an undergraduate student mentor and must be willing to commit at least one afternoon per week during the summer for training and research.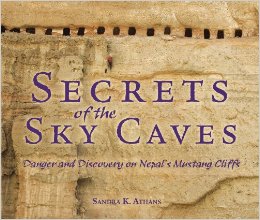 CHILDREN'S BOOKS
Secrets of the Sky Caves: Danger and Discovery on Nepal's Mustang Cliffs, by Sandra K. Athans. Nonfiction book for grades 4-8 that features our 2012 archaeological expedition to Nepal, led by archaeologist Dr. Mark Aldenderfer of the University of California at Merced. Read the National Science Teacher Association (NSTA) review here. This expedition was also featured in the October 2012 issue of National Geographic.